When it comes to make-up Lipsticks are my favourite. I'm not a make-up junkie but lip colors are something I like to hoard. And yes they will be all a shade of pink.
There is always an excitement when I apply make-up but removing it is a bit tiring job for me. But thanks to various make-up removers available in the market, removing make-up has become quite easy. Just a few swipes and make-up is off! One of these products is Hiphop Skin Care Instant Lipstick Remover Pads.
Along with many other skin care products Hiphop has a lipstick remover too. And like it nail polish remover wipes, this product has also impressed me.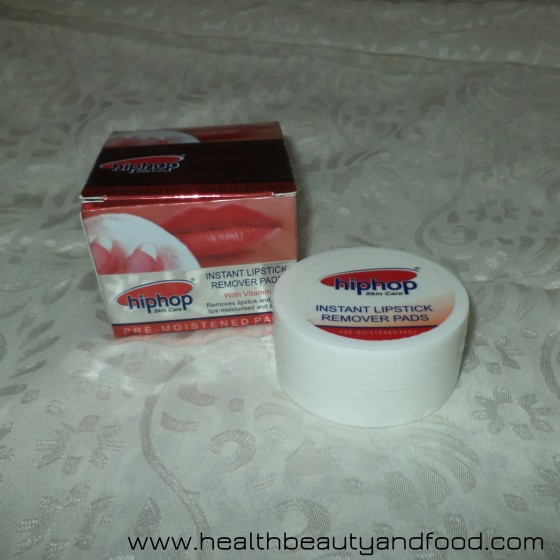 Let me give you a detailed review about these pads…
Price: Rs. 100
Quantity: 30 pads
Shelf Life: 3 years
Buy Hiphop skin care Instant Lipstick remover pads here
Ingredients, Company's claim and Usage Instructions: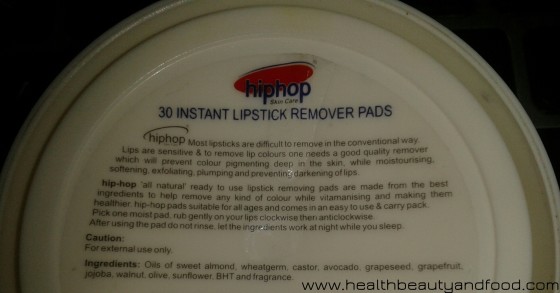 Fragrance: It has a nice, somewhat bubble gum like fragrance which not at all bothering.
Packing: The packing is same like their nail polish remover wipes. White circular case with inner lid and screw cap, packed in red and silver cardboard box. Inner lid and cap is tight so you can easily carry it in your bag.
---
Also Read: Lass Naturals Chocolate and Honey Lip balm review
---
Experience: When I opened Hiphop skin care lipstick remover Pads' box for the first time, I just kept on smelling it. It has such a nice, sweet fragrance which actually reminds of bubble gums. The fragrance is so good that you will just love to smell it.
The lipstick remover pads are so moist that a single pad is enough to remove the toughest lip color. I tried it with 3 – 4 lipsticks and it did a great job of removing them off. These pads are a little abrasive which helps to remove the lip color well while exfoliating the lips.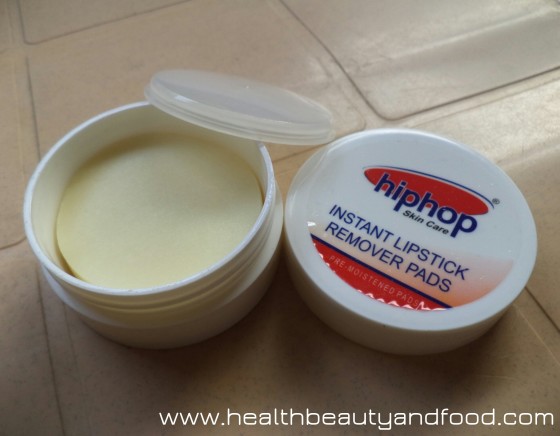 Hiphop skin care says not to rinse your face after use and let the ingredients work overnight. But it makes my lips so greasy that I can't stop myself from washing my face. Another reason to clean my face with a cleanser after using it is to ensure that no lipstick residue is left and my lips are clean.
What I like about Hiphop Skin Care Instant Lipstick Remover Pads:
Cheap
Easily available online
Removes lipstick well
Gives nourishment to lips
Exfoliate lips
One wipe is enough
Well moisturized pads
Contains Vitamin E and other nourishing ingredients
Comes with nice yummy fragrance
Natural ingredients
Parabens free
Not tested on animals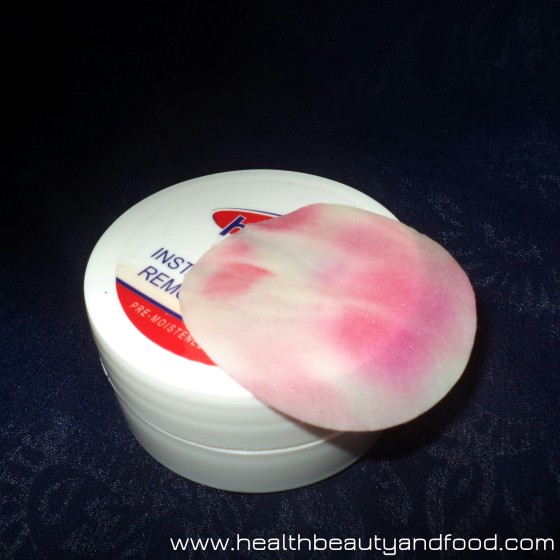 What I dislike about Hiphop Skin Care Instant Lipstick Remover pads:
Difficult to find offline
Leaves lips greasy and oily
---
You may also like: Everyuth Walnut Scrub Review
---
Rating: 4.5/5
Verdict: Hiphop Skin Care Instant Lipstick Remover Pads are effective, inexpensive and a healthy way to remove your lip color. It removes the lip stains well and at the same time nourishes and exfoliates the lips. As per me these pads are a must-have in every girl's vanity.
Have you tried Hiphop Skin Care Instant Lipstick Remover Pads? How was your experience with it? Share it in the comments section below.
P.S. PR Sample. Honest Review.