Remember my post about goodies Fuschia sent me for review? This is the first soap from that brand which I'm reviewing today. It is a cinnamon soap which is more useful for oily to combination skin type. As Cinnamon is known for its acne curing property, I think people with problem of body acne will be beneficial from it.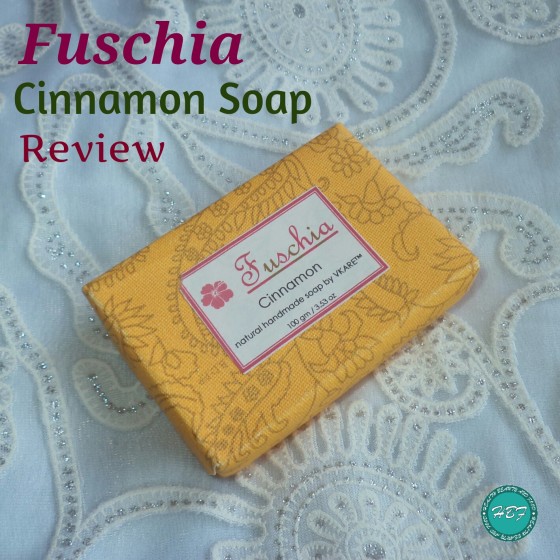 Price: Rs. 225/-
Quantity: 100 grams
Ingredients: Not mentioned
Buy online at Flipkart, Myntra, Snapdeal, Shopclues, Fashionara
What Fuschia says about its Cinnamon Soap:
Cinnamon – Bid adieu to pimples and welcome healthy skin: If you're tired of spending money on acne creams and ointments but failed to get the desired results, it's time to take some homemade remedy approach. Considering the multiple benefits you get, home-made and natural herbal soaps are turning more and more popular. A blend of honey and cinnamon is highly effective for healing wounds and treating skin itching problems. It's also effective for treating blackheads. Cinnamon is beneficial for oily or combination skin types. It helps to tighten skin pores and makes your face clear and smooth.
Packing: Fuschia Cinnamon Soap comes in a yellow and golden paper with plastic inner packing.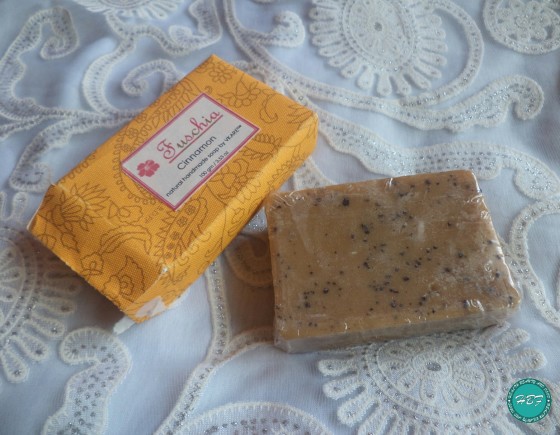 Experience: Fuschia Cinnamon soap is light brown colored opaque soap which is filled with Cinnamom granules. The granules act as exfoliators and is a bit harsh for some body parts.
The soap has cinnamon fragrance which vanishes after bathing. This is a good point for me as I don't want my body to smell like cinnamon.
Fuschia Cinnamon Soap creates good lather which is creamy one. It doesn't melt fast and last long. After bathing with this soap, my skin looks clean and feel soft. The soap doesn't dry out my skin but since it is winter, I need some moisturization.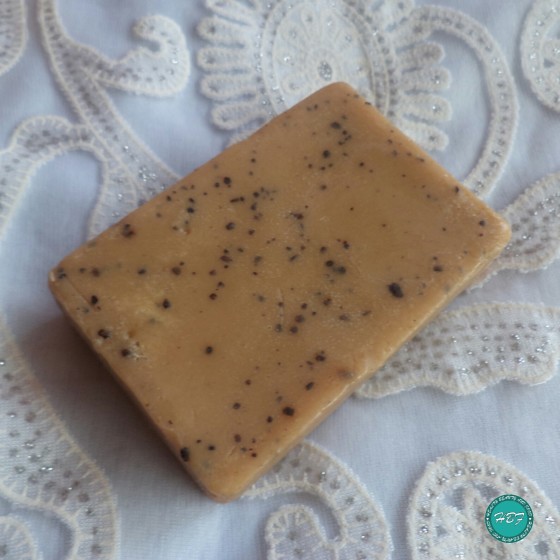 I don't have any body acne problem so I can't say anything about its acne curing claim. Since it claims to treat blackheads, I gave it a try on my face and regretted this decision later. I found the granules too harsh for my face and they were ineffective on blackheads too.
Check out review of my favourite Handmade Soap
What I like about Fuschia Cinnamon Soap:
Natural & Handmade
Contains cinnamon
Exfoliates skin
Makes skin soft
No stretchy or greasy feeling after use
Cruelty Free
What I dislike about Fuschia Cinnamon Soap:
A bit pricey as compared to other handmade soaps
Some may find the granules harsh
Ingredients & shelf life missing
May not be easily available offline
Rating: 4/5
Verdict: Fuschia Cinnamon Soap is a good natural & handmade soap which cleanse and exfoliate the skin well. Since it contains cinnamon which is good for acne, I recommend this to oily skin beauties. If you don't mind the price, then definitely get this.
Have you tried Fuschia Cinnamon Soap? How was your experience with it?
Keep yourself updated with recent posts by following HBF on Facebook, Twitter, Google+, Pinterest and Instagram.
PR Sample. Honest Review.