I recently came across this brand Eeshha Herbal and tried a few products of it. This company produces herbal personal care products which include a range of Skin care, Body care, Sun care & Hair care products. I have tried some of their skin care and body care products which I'll be reviewing soon on the blog.
Today I'll be sharing my experience with Eeshha Herbal Moisturizing Natural Bathing Bar. Lets find out how this soap fared for me…
Eeshha Herbal Moisturizing Soap Review:
Price: Rs. 70/-
Quantity: 100 grams
Buy here from Flipkart (affiliate link)
Ingredients: Aloe Vera Extract, Sugar Cane Extract, Almond Oil, CAPB, Glycerin, Coconut Oil, Extract of Neem and Turmeric.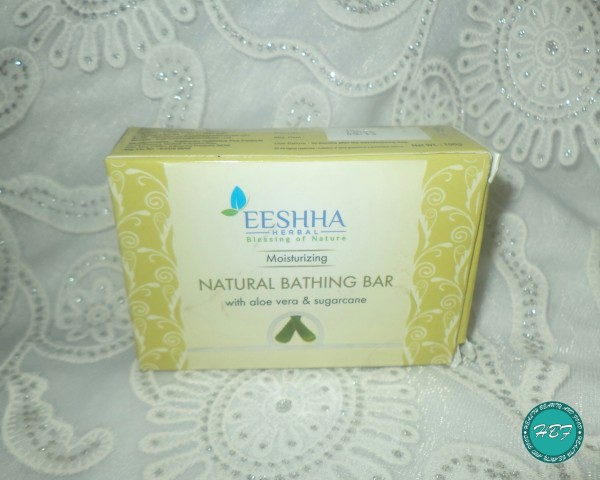 Company's Claim: Aloe Vera is known to rejuvenate skin and lend new glow to your complexion. Indulge in this refreshing bathing experience. Gift yourself soft and supple skin day after day.
De-codify the skin, makes skin healthy,glowing and removes all dirt, grime, pollutant, make-up and excess oil from the skin, imparting whitening & refreshing effect on the skin.
Experience: Eeshha Herbal Moisturizing Natural Bathing Bar is a dark green colored translucent soap which smells mostly like aloe vera. Its fragrance is more like the Vedantika Herbals Neem Tulsi Aloe Face Wash. It is a thick hard soap which doesn't lather much, like most of the handmade soaps. This proves that the soap doesn't contain SLS. Also, the soap doesn't melt fast, It will last really long.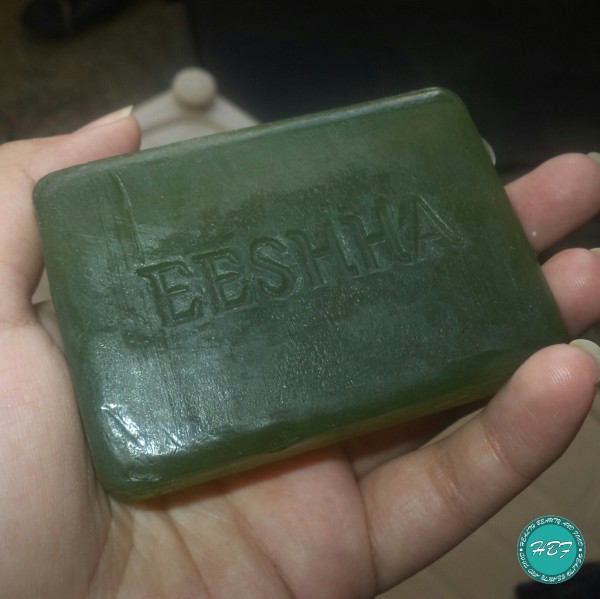 Since the Eeshha Herbals says that this a moisturizing soap, I was expecting it to at least not make my skin dry after bath. But it didn't met my expectations. My skin feel stretchy after bathing and I need to run for good body lotion. I don't think it is a moisturizing soap. It is just a normal soap which can clean your skin, nothing else.
The soap also claims to remove make-up but as I don't use soaps on face, I can't say anything about it. About removing dirt and excess oil, yes it actually do that and make skin fresh and glowing.
What I like about Eeshha Herbal Moisturizing Natural Bathing Bar:
Herbal Soap
Lather well
Contains natural and skin-friendly ingredients
Cleanses skin
Good for summers
Affordable
Cruelty free
What I dislike about Eeshha Herbal Moisturizing Natural Bathing Bar review:
Misleading name
Not at all moisturizing
Not easily available in local market
Rating: 3.5/5
Verdict: Eeshha Herbal Moisturizing Natural Bathing Bar is a regular soap which does its job of cleaning very well but fails to moisturize the skin. Since it contains aloe vera and neem I will recommend people with normal to oily body skin to use in summer. But dry skin people, stay away (at least in winters).
Have you tried anything from Eeshha Herbals? Which is you current favourite soap? 
PR Sample. Honest Review.