Did you know 34% population in India comprises of Millennials?
Now if you don't know what this fancy term 'Millennial' is, let me just tell and save you from the trouble of google-ing the term. Millennial is the generation of people born in between the years 1980 – 2000. So, if you are a Millennial, this post might interest you.
Western Union, a leader in global payment services undertook a consumer study "Globalization: A World View of the Future" last year. I got an opportunity to attend the Western Union Round Table which was organised earlier this week. The Round Table was organised to share the findings of the study conducted on 10,000 millenials across 15 countries.
Since millenials constituted 27% of the global population and are tomorrow's future shapers, they were selected for this study undertook by Western Union Company to understand their views about where they see the world advancing in the future.
Individuals from Australia, Brazil, Canada, China, Egypt, Germany, India, Indonesia, Mexico, Russia, South Africa, United Arab Emirates, United Kingdom, United States, and Vietnam were asked about their opinions specific to the four key areas of the study: future, borders, technology and global citizenship.
The findings of the survey showcase that Millenials across the world are united by a belief in globalization. They want the freedom to experience the opportunities it brings and have a desire to play a role in shaping the future using technology.
Here is the key highlights of the survey: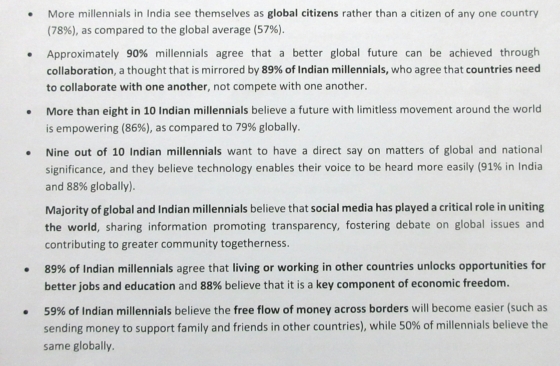 While presenting the survery findings Sohini Rajola, Regional Vice President, South Asia and Indo-China Western Union said, "The world is changing and there is a new economic power shift, driven by a new generation of global citizens, including here in India. They are shaping the future, and inspiring others to do the same. They are redefining globalization to one of 'personal globalization' where the pursuit of limitless cross-border movement, cross-border digital communication and creative lifestyles new economic power."
Apart from Sohini, the round table discussion also included some successful Indian Millenials who shared inspiring stories of themselves and others that proves the power and need of globalization and limitless borders.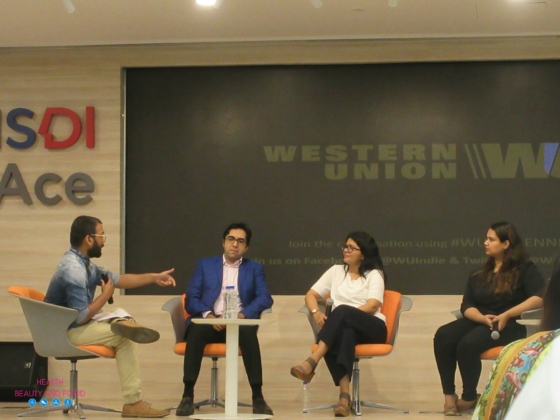 L to R: Ankit Vengurlekar, Siddharth Shahani, Sohini Rajola, Pooja Dhingra
Pooja Dhingra, Indian pastry chef and entrepreneur, selected by Forbes India for their '30 Under 30' achievers list for 2014 and the Forbes 30 under 30 Asia list. She owns Le15 Patisserie that specialises in macarons and a host of french desserts. Pooja studied hospitality and management at the César Ritz school in Le Bouveret in Switzerland and took training in Le Cordon Bleu, Paris.
Karishma Mehta, founder of Humans of Bombay which shares stories of people whom Karishma meets everyday. These stories are unique and memorable, stories of dreams, heartbreaks, success, failure, hope, inspirations. Her Facebook fund-raiser campaign is a very good example of the power of technology and globalization. She had organised a fund-raiser campaign on Facebook to generate an amount of 5 lakhs to help people in need and she managed to collect 6.5 lakhs in just one day. Later she helped a girl get funding for her stay in New York for studying and it is a quite surprising that a guy from Mexico just funded the entire amount required.
Siddharth Shahani, Executive Director at Indian School of Design & Innovation also shared inspiring stories of some of his institute's students which has really motivated me to do some good work for the society, even if it is at a very smaller level.
Himanshu Sehgal, food and travel blogger and founder of My Yellow Plate was also a part of the discussion panel. Himanshu explores the world and tells the story of cities across the globe through food stories on his blog and social media. During the discussion he said, "Today's youth are more aware of what they want the world to be, not only for themselves, but for all. Their strong belief in global citizenship as key to creating a world open to collaboration, cohabitation and overall development is heartening to see, and is what will shape the present and the future."
The Round Table was moderated by Ankit Vengulekar, a.k.a Gadgetwala, who is currently the technology editor of Tech2. I remember Ankit from his show Tech Guru. He is again an inspiring individual who has made his name in the internet world. He kept us entertained throughout the discussion with his wit and humour.
I'm glad to be a part of this informative and inspiring Western Union Round Table. I would like to admit that I was a bit sceptical to attend this round table but I had a really good time there. Moreover, listening to these successful millenials in the discussion panel and hearing stories from the audience about the little good work they are doing, I'm quite inspired to do something myself.