India has one of the highest cancer rates in the world. Over 3 millions death take place in India every year due to cardiovascular diseases. One in every 12 Indians is expected to get some form of cancer before they reach the age of 64. Incidences of critical Illnesses are increasing day-by-day, not only in India but all over the world.
We all are aware that treatment of these Critical illnesses include a lot of money. It is not easy to bear the expenditure of treatment and when an earning member of the family suffer from any such disease, the situation is even worse.
With increasing rate of critical illnesses in India, you need a better Insurance plan to cover them. Edelweiss Tokio, one of the best insurance companies in India has a Critical Insurance Plan named 'Criticare+', which covers 17 critical illnesses. Let us know more about it in this post.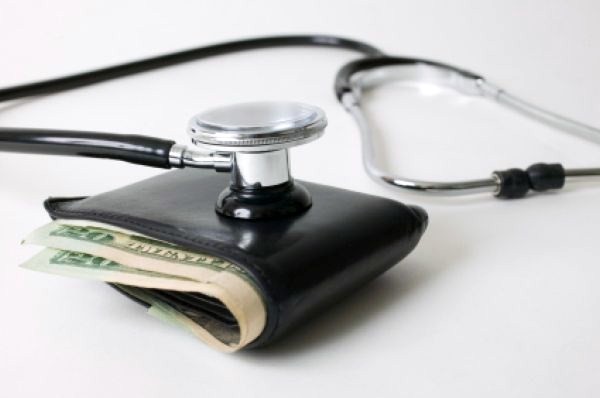 About Edelweiss Tokio Life – Criticare+:
Edelweiss Tokio Life – CritiCare+ is a non-participating, non linked critical illness plan that covers a truly wide range of 17 critical illnesses. In case you are faced with the unfortunate onset of a critical illness, you will be able to ensure that your family gets the required support to manage their day-to-day expenses as well as your health care expenses.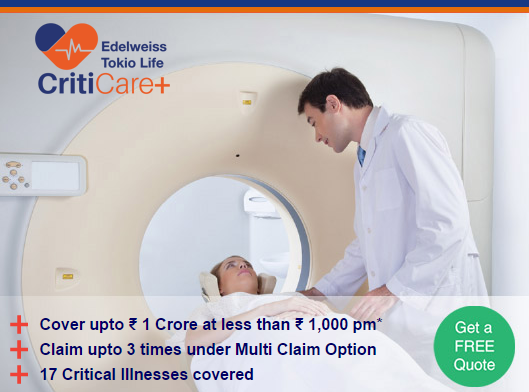 Why I Like Edelweiss Tokio Life Criticare+:
1. 17 Critical Illnesses covered:
This Critical Illness insurance covers 17 critical illness which includes Kidney failure, Heart Attack, Open Heart Replacement, Cancer, Brain Tumour and stroke. It also includes cover for Permanent Paralysis, Total Blindness, Major Burns, Aorta Surgery and Coma. Major organ transplant like heart, kidney, bone marrow, etc. are also covered.
2. Minimal Premium:
Under Single claim option, you pay a premium amount of Rs. 1000/- (approx.) per month for the cover of Rs. 1 crore (excluding taxes).
3. Maximum entry age of 65 years:
Criticare+ can be purchased by people of 18 to 65 years of age. This is something very good as not many critical illness insurance allow entry age of 65 years.
4. Tax Benefit:
As per Income tax act, investing in a critical illness insurance allows deduction in Income tax.
5. High Coverage:
The minimum sum assured with CritiCare+ is Rs. 5 lakhs which can increase up to Rs. 1 Crore. Also, Some additional discount are available for larger sum assured.
6. Multi claim option:
Under this option, one can claim thrice during the policy period. 3 claims are allowed with a gap of 365 days of 2 critical illnesses which falls under different groups.
There are many insurance companies in India which offers Crtitical Illness Insurance. But, I found Edelweiss Tokio Life – Criticare+, the best among all.
Now you tell me Have you invested in any Critical Insurance plan? Is it better than Edelweiss Tokio Life – Criticare+?