Hey Everyone!
I am back with another review of a product from my current favourite brand Hiphop Skin Care. I am in love with their products and have already tried and reviewed 3 things from this brand. There are many other stuffs I have in my trying list from Hiphop like their fruit scrub. (This calls for some online shopping.. Yayy..!!). I wish we start getting their products offline too!
Today I am reviewing Hiphop Skin Care's Salt & Sugar face wash. The unique thing about this face wash is that it comes with Micellar Water. Micellar water is a type of cleanser which helps to remove make-up too. This is why this face wash claims to remove make-up. But is this claim true? Find it out in the review…
Price: Rs. 90
Quantity: 120 ml
Shelf Life: 3 years
Buy Hiphop Skin Care's Salt & Sugar gel face wash here
Company's claim and Ingredients: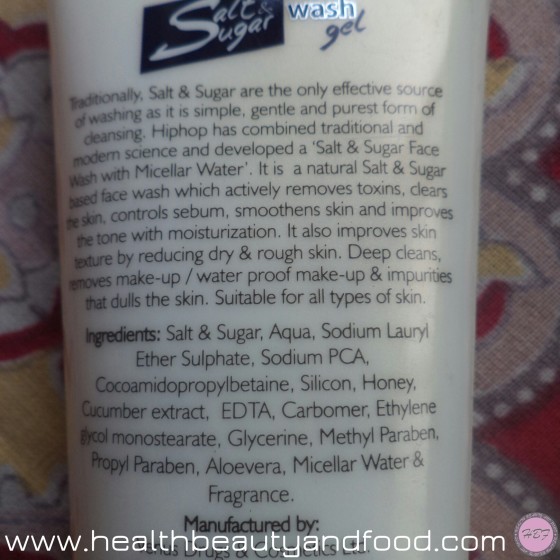 Packing: Hiphop Skin Care Salt & Sugar gel face wash comes in a white and blue opaque tube with tight flip-up cap. So, you can carry it in your bag without worrying about leakage.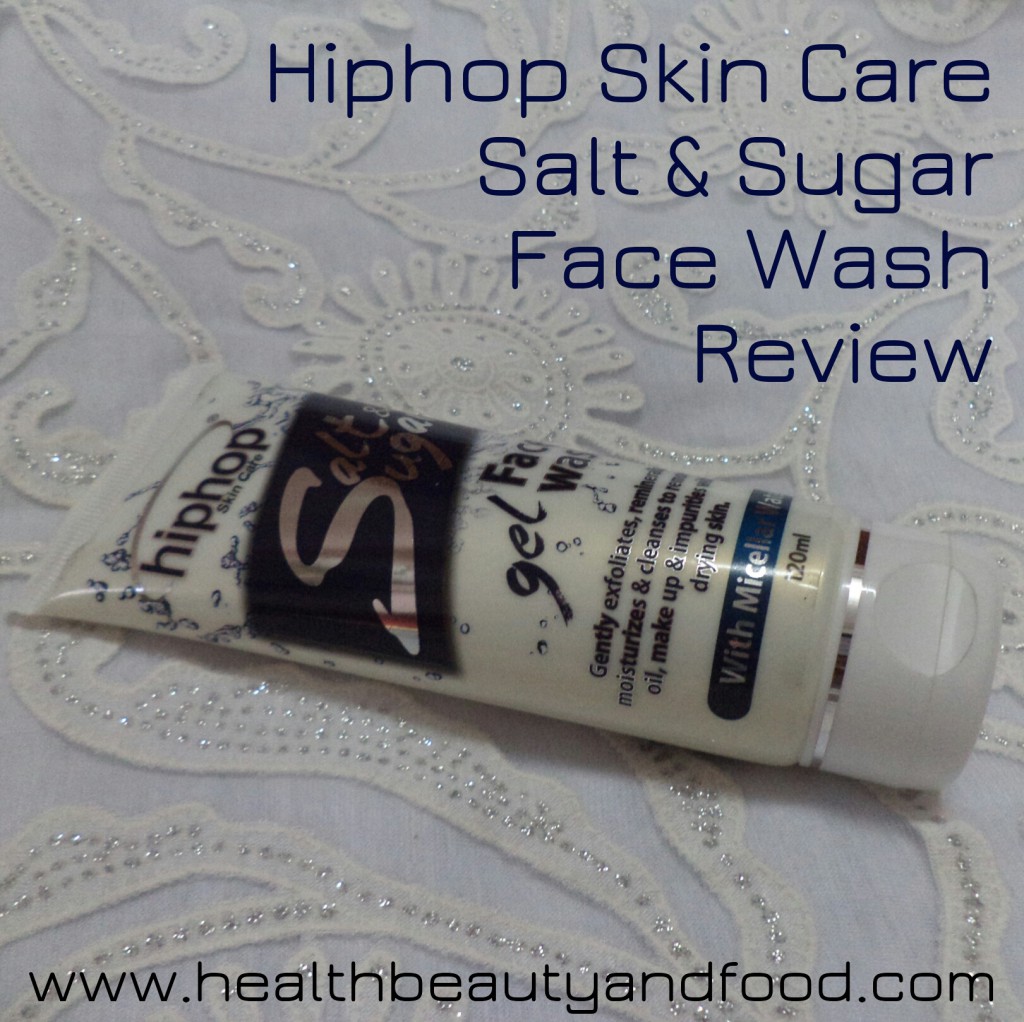 Experience:
Hiphop Skin Care Salt & Sugar face wash is a transparent thick gel which has a mild pleasant smell. I really like its fragrance. The face wash doesn't lather much but still you don't need it in more quantity. I wonder why it doesn't lather well even when it contains SLS. I wish it was an SLS free face wash as there are many other companies which sells SLS free cleansers nowadays. Or at least they should have used the milder form of SLS i.e. Sodium Laureth Sulfate.
You may also like: Hiphop Skin Care Instant Lipstick Remover Pads
As this face wash from Hiphop Skin Care contains Salt and Sugar which are natural cleanser and exfoliator, it cleanses the face well. It doesn't leave any greasy or stretchy feeling behind. It is a perfect face wash for people with normal skin. My skin is dry and find the face wash a bit drying in winter. As it is a gel face wash, I think it may suit oily skin beauties too.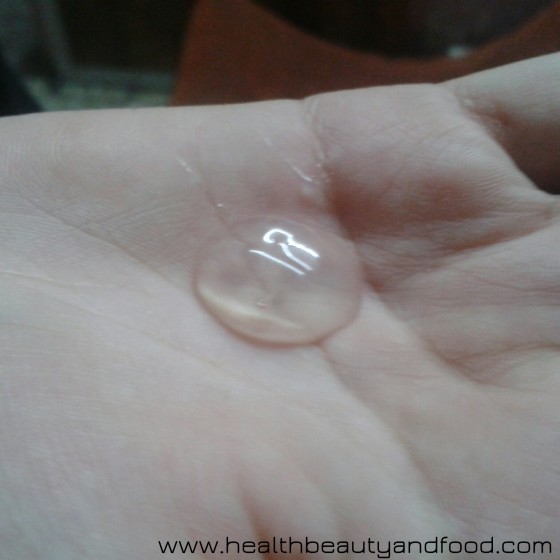 Hiphop claims that this salt and sugar face wash contains micellar water due to which the face wash removes make-up. I have tried removing some light make-up and it was able to clean it off. But in case of heavy, waterproof make-up, I don't think it will work.
Also read: Hiphop Skin Care Instant Nail Polish Remover Wipes review
What I like about Hiphop Salt & Sugar Gel Face Wash:
Natural Ingredients
Cruelty free brand
Cleanses face well
Removes mild make up
Affordable price
Suitable for all skin types
Travel friendly packing
What I dislike about Hiphop Salt & Sugar Gel Face Wash:
Contains SLS
Bit drying in winter
Difficult to get offline
Rating: 4/5
Verdict: Hiphop skin care Salt & Sugar gel face wash is a decent face wash which may suit all skin types. It cleanses really well and give you a squeaky clean face. It is affordable and made with natural ingredients. It is a good face wash which suits all skin type.
Hope this review is helpful. Please share your views on this product in the comments.
Keep yourself updated with recent posts by following HBF on Facebook, Twitter, Google+, Pinterest and Instagram.
P.S. PR sample. Honest review.