Phirni is one of my favourite sweet dish. But we don't get this round the year in our area. It is only available in our Holy month Ramazan. As soon as the fasting month arrive my brother gets me my favourite sweet dish.
The vendors here make different types of phirni during this month, including mango phirni and Blackcurrant phirni. But me and and my sister likes the regular white phirni.
I tried making phirni at home two years back and my sister liked that more than the shop's phirni. Since then I never made it. Last week my sister asked me to make phirni and I could not say no to her. Now this phirni is here at my blog.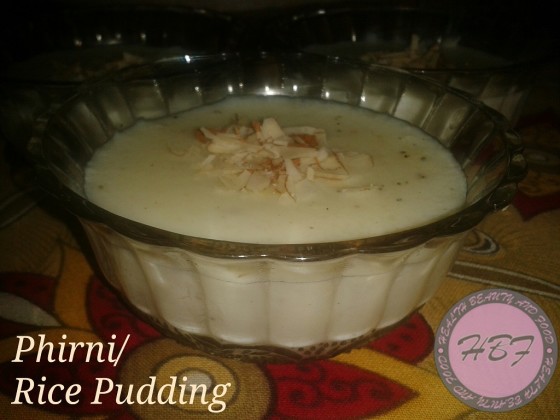 Ingredients:
Milk – 1 litre
Long grained rice (basmati) – 4 tbsp
Sugar – 6 tbsp (or as per your taste)
Method:
Wash and soak rice in enough water for at least 1 hour.
Drain and powder the rice in a blender. The powder must be coarse and not fine. (Just like we make it for idli)
Add little water in the rice powder and form a thick paste.
Boil milk in a heavy bottomed vessel or a non stick kadhai or wok. Stir the milk while boiling so that the layer of cream does not form.
As the milk come to boil, add the rice paste and stir constantly so that no lumps are formed. If you see any lumps, use a hand blender and dissolve them.
Cook the milk till the rice tender. It will take around 15 – 18 minutes for the rice to cook.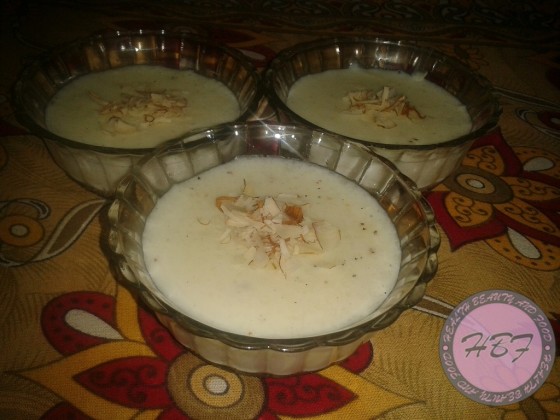 Also read: Besan ke Laddu recipe | How to make Besan ka Laddu
The phirni will get thickened as the rice is getting cooked.
After the rice is cooked, add sugar and cardamom powder and simmer till sugar is dissolved. Check for sweetness and add sugar if you want.
Turn off the flame and pour phirni in earthen or glass bowls and garnish with sliced or chopped nuts. I used sliced almonds for garnishing. You can use any nuts available with you.
Now keep the bowls aside for setting the phirni.
After the phirni has cooled down, put it into the refrigerator for at least an hour.
Serve chilled.
Notes:
Cook the phirni on low to medium flame to prevent the milk from burning and sticking at the bottom.
Stir frequently. If milk gets stuck on the sides then scratch it and mix.
Hope you guys liked this Phirni recipe. I have also shared some other desserts on this blog. You can see them
here
.