What's happening guys?
I haven't shared any review since quite a long time on the blog. I have also noticed that when it comes to review posts, there are more skincare product reviews on the blog as compared to the make-up products. This is why I have decided to review a few make-up stuffs in the coming days starting with this gorgeous looking lipstick from Oriflame.
Oriflame Giordani Gold Jewel Lipstick dusky nude was my first neutral lipstick and there were 2 reasons why I wanted it. Reason number one is the packaging. It's gorgeous! Just look at it.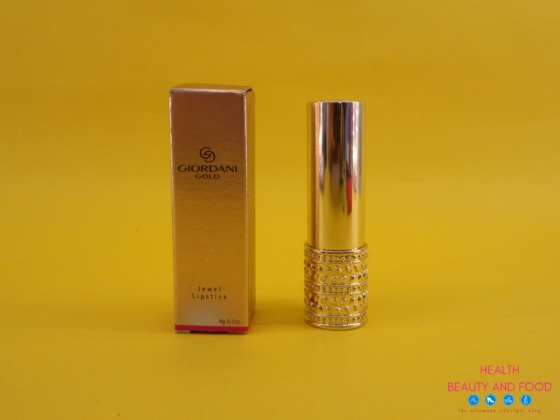 Second reason why I wanted this Lipstick was that I didn't have any nude lipstick in my collection and the color in the bullet looked really good.
Let's talk about the packaging of Oriflame Giordani Gold Jewel Lipstick dusky nude in detail. The Lipstick bullet is gold in color with some design at the bottom and its cover too is golden. Bullet is made up of metal. It is quite sturdy and of good quality. Cover shuts tight with a click so you can easily carry it in your handbag. I have carried it in my make-up pouch a couple of times and the cap didn't come out. Outer packaging again is golden with all the details mentioned on it.
The shade dusky nude is a peachy-nude type of color which in my opinion flatters the most on fair to light wheatish skintone. Pigmentation is average. You need 2 – 3 swipes for the color to show up well on lips. The Lipstick appear darker in the bullet but color shows up very light on the lips. I feel it doesn't look good on me when I swipe it more than twice to build up the color. The color appears even lighter when you try to build it up. Oriflame Giordani Gold Jewel Lipstick dusky nude is not completely opaque so you can see the actual lip color slightly peeking through after application.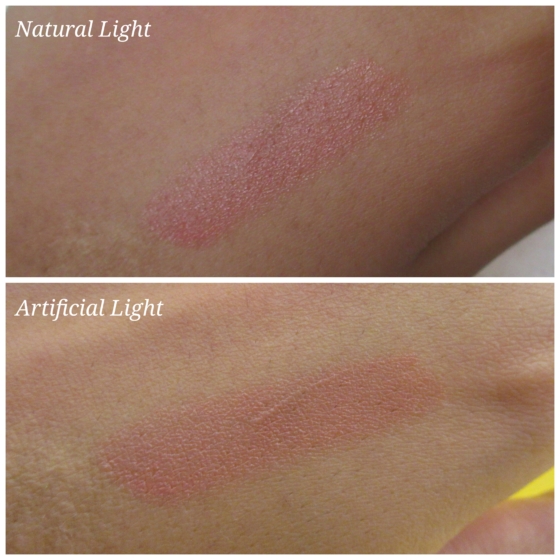 I really like the smell of the lipstick but what I don't like is that the smell lingers on for sometime (don't know how long). Some people may find the scent bothersome because it is slightly stronger.
I like to pair Oriflame Giordani Gold Jewel Lipstick dusky nude with my Catrice Long-lasting Lip Pencil in the shade 100 Upper Brown Side. Mixing it with the lip pencil the color look really good on my lips.
This lipstick is glossy finish and the texture is quite creamy. It glides easily on the lips, without any lip balm underneath. It is moisturising lipstick but the lasting power is very poor. I found the lipstick lasting hardly for 2 hours on my lips. But then we can make lipsticks last longer with a few tricks.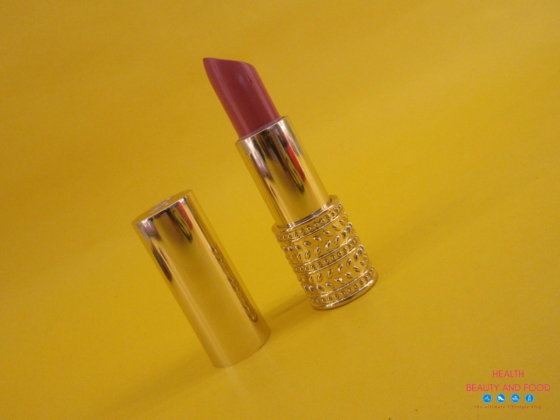 Overall I feel Oriflame Giordani Gold Jewel Lipstick dusky nude is a beautiful neutral shade for fair to light wheatish skintone. It is moisturising, medium coverage lipstick which is a little expensive. Apart from the texture and packaging, I don't find anything impressive. If you want a beautiful gold lipstick to display on your vanity table, this is for you. Otherwise, I feel there are better options available at cheaper price.Price of Oriflame Giordani Gold Jewel Lipstick dusky nude is 
₹749/-
for
4 grams.
You can buy it at discount 
here
.
What do you think about this lipstick? Have you tried any lipstick from this range? Let me know in the comment section below.