So its Independence Day and I'm here again with a Tri Color recipe. Last time on Independence Day I shared Tri Color Sweet Rice recipe. This time too I have come up with a sweet Tri Color recipe after a lot of thinking and searching.
I googled many recipes but didn't liked any except this Tiranga Cookies. But then this cookies contain eggs and I prefer eggless baking. Also, I was a little confuse with the instructions so I used my baking knowledge and my basic cookie recipe and made Tri Color Cookies.
This time I had also used Corn Flour and Baking Soda in the cookies but I didn't like the result. This is why I haven't mentioned these 2 ingredients below. Using Plain Flour and Baking Powder is better I think.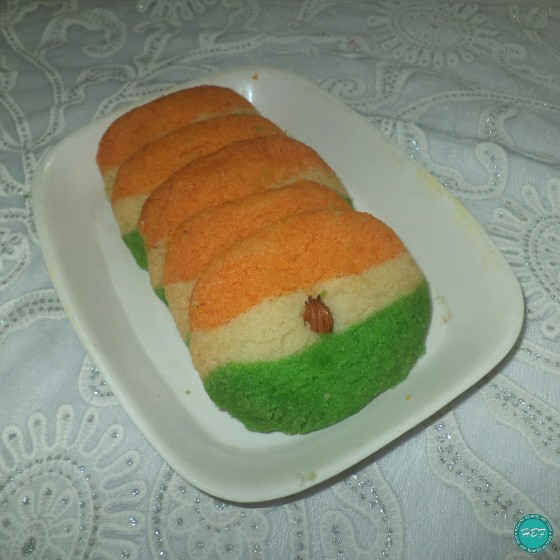 Tri Color Cookies | Tiranga Cookies Recipe:
Ingredients:
All Purpose Flour – 2 Cups
Unsalted butter/ Clarified Butter (Ghee) – 1 Cup
Powdered Sugar – 1/2 Cup
Vanilla Essence – 1 Teaspoon
Baking Powder – 1/4 Teaspoon
Food Color Powder (green and orange) – a pinch or two
Milk – 3/4 Teaspoon
Nuts of your choice – for garnishing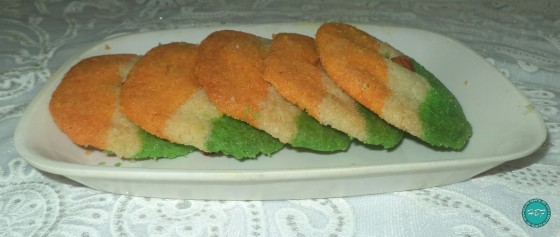 Method:
1. Take butter and sugar in a bowl and mix it using a spoon or whisk until it becomes fluffy. Add vanilla essence to it and mix well.
2. In a separate bowl sieve flour and add baking powder to it. Mix it well.
3. Now add butter and sugar mixture and mix well. Bring everything together to form the dough. Do not knead.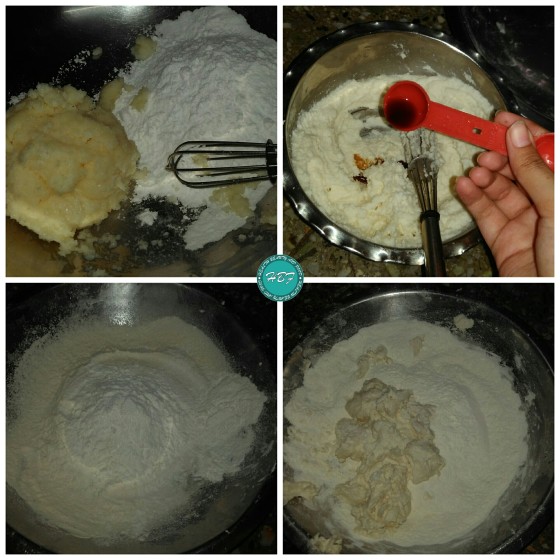 4. Divide the dough in 3 equal part.
5. Take about 1/4 teaspoon of milk in 2 small bowls, add orange food color in one and green in the second. Mix the color well with milk.
6. Now add green color mixture to one part of the dough and mix well until the dough becomes green.
7. Do the same with orange color liquid and another part of dough.
8. Keep the third part of dough plain but add 1/4 teaspoon plain milk to it so that the dough become soft.
9. Cover and keep the all the dough parts for Tri color cookies in refrigerator for an hour.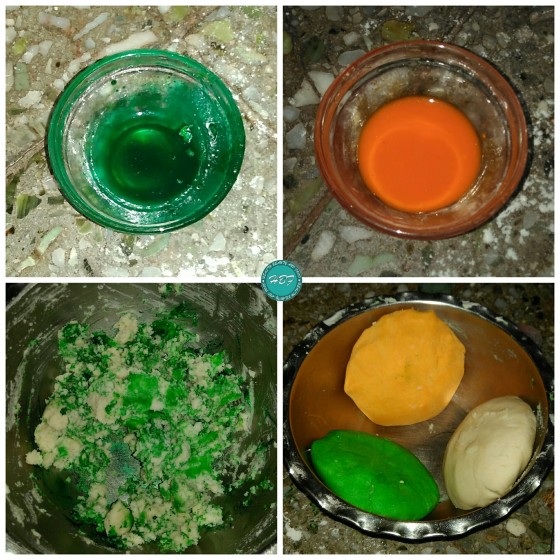 10. After an hour remove the Tri Color Cookies dough. On a flat surface, sprinkle some flour (or place a butter paper) and roll out all the dough one by one. Be careful, dough may break. Use your hand and keep sticking the dough together. Don't roll the dough thin, keep it thick.
11. Carefully keep the rolled green dough on a chopping board. Place the white part over the green one and then the orange one on the top of white. Press them lightly.
12. Using a knife cut the dough in to rectangular pieces.
13. Take one rectangular piece at a time, press them a little. Place chopped nut in the middle (like Ashoka Chakra).
14. Place some Tri Color cookies on a greased baking tray and bake them in preheated oven at 180 degrees for 12 – 15 minutes. Baking time varies from oven to oven. Keep a check on the color to know when it is done.
15. Once it is done, remove from the oven and let it set for 3 – 4 minutes. After that place them on a wire rack and let it cool completely.
16. Repeat the process until all the Tri Color cookies are baked.
17. Store them into an air-tight container and enjoy whenever you want.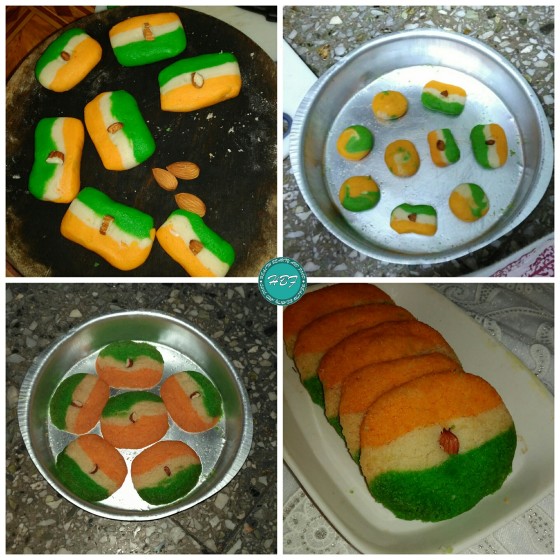 I hope you liked this Tri Color Cookies Recipe. Do try it and let me know how it turn out.