I wanted to post something special for this Independence Day and what else is better than a sweet dish to celebrate this occasion.
After a lot of thinking I came up with this tricolor recipe. It is Tricolor Zarda i.e sweet rice. We usually make this rice in orange color but this time I made it in 3 colors of our Indian National flag.
When I told my sisters about it, they asked me how I will make the Ashoka chakra in the middle. You know how siblings are. They will criticize even the best work of yours. I thought for a while and try to make it using raisins. I know it is not at all looking like Ashoka Chakra.
Now let us see how to make this simple sweet this.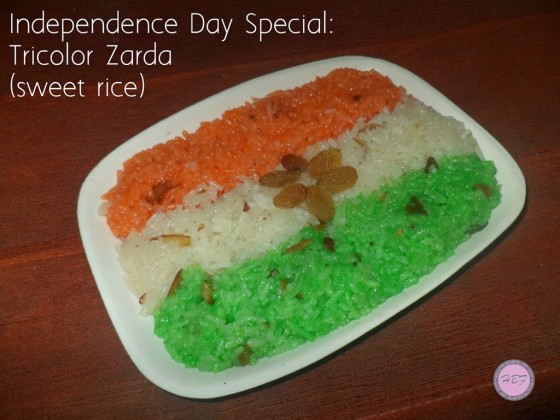 Ingredients:
Basmati rice (fragrant long-grain rice) – 1 cup
Ghee (clarified butter) – 2 – 3 tablespoons
Green cardamom (crushed) – 4 – 5
Cinnamon stick (1 inch piece) – 2 – 3
Almonds (chopped or sliced) – 5 – 6
Cashews (chopped or sliced) – 5 – 6
Water – as required to cook rice
Orange food color (dissolved in ½ teaspoon water) – 1 pinch
Green food color (dissolved in ½ teaspoon water) – 1 pinch
Raisins – 2 tablespoons
Desiccated coconut (grated) – for garnishing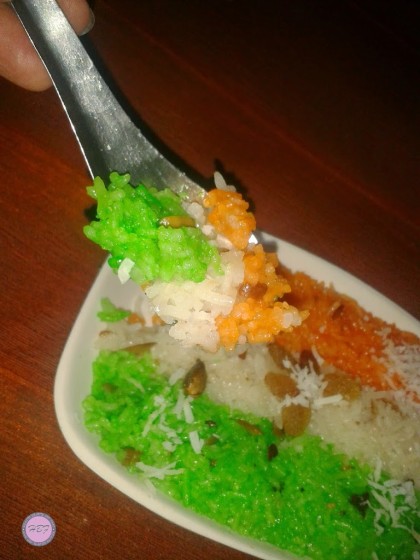 Method:
Soak rice for 20 – 30 minutes.
Heat ghee in a deep pan and add green cardamom and cinnamon stick to it.
Sauté them for a minute or 2 and add chopped almonds and cashews. Sauté them for a few seconds and add
some water so that they do not burn.
Now add rice and enough water and cook it till the rice is 80% – 90% done (Some water should have left in the rice).
Add sugar and mix properly. Let the rice cook completely and sugar dissolved.
Notes:
After the rice is cooked, add raisins and mix properly.
Now divide the rice into 3 equal parts in 3 separate bowls.
Add orange food color to one part, green to the other and let one part remain white.
Mix the color properly so that all the rice is covered.
Arrange the rice in a plate according to the color of flag and garnish with some desiccated coconut and raisin.
You can make this zarda in single color also.
Hope you liked this special Independence Day recipe. Do share your views in the comments below.
Do not forget to share this post on Facebook, Twitter, Google+, Pinterest and Instagram.