Online Shopping is the most convenient way to shop and I'm more into this nowadays. In fact, I often surf E-commerce websites to see if there is something new stocked. And whenever I make my mind to buy something, I search for coupons and discount offers to get the best deal. The best coupon website which I look upon mostly is 27 Coupons.
If you are a regular reader of my blog, you must have read about 27 coupons before. I wrote a detailed post about the website mentioning its features and some of the offers active that time. You may have a look at it here.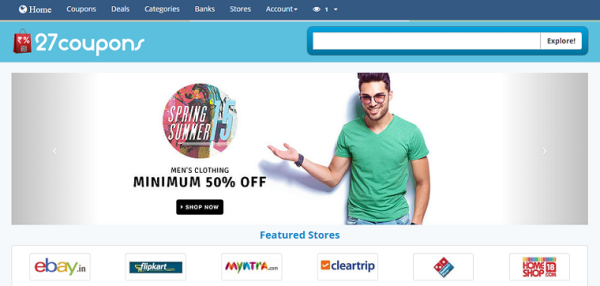 By now you must have understood how much I love shopping, actually online shopping, Well, every other women on earth love shopping! While searching for good make-up brushes online, I came across Ebay and found some great brushes too. EBay is quite a famous website and I have seen my fellow bloggers buying decent products from that site. Recently, I saw one of my fellow bloggers Mansi writing about Ebay Make-up Brushes and I was quite impressed by the quality. So, I made my mind to shop from this site and as usual, visited 27 Coupons to look for Ebay Coupons.
With 27 Coupons' simple and user friendly interface, searching for coupons is extremely easy. In fact, I didn't have to search for the store, Ebay was present as the first featured store on the website's landing page. Also, I found 2 of the offers at homepage only. To check all the offers, I visited the Ebay Store and guess what, I found not 5, not 10 but 24 active discount coupons and 4 active offers. This recharged me even more to shop.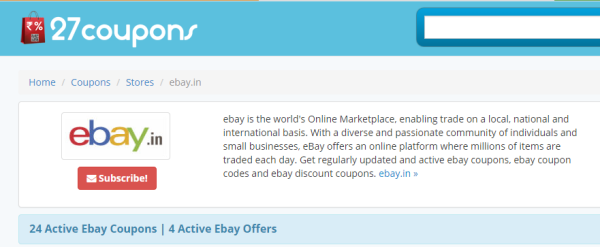 Some of the Ebay offers I found interesting was 60% off on smartphones, Flat Rs. 1000/- OFF on selected watches, Flat 20% off on home & living products and 10% off on all products. You can get all these offers buy using the coupon code mentioned on 27 Coupons Website.
Since I had an eye on some products on Flipkart, I jumped on Flipkart Store to check for some offers and discounts by using the search bar. There were only 8 active offers that time and that to on Cameras, Books, clothing and footwear. I wanted buy some make-up products but unfortunately no offers or discounts on make-up was available. 27 Coupons say Flipkart doesn't offer any coupon codes to be used in their website. This is the reason why you will find only discount offers which the website provide.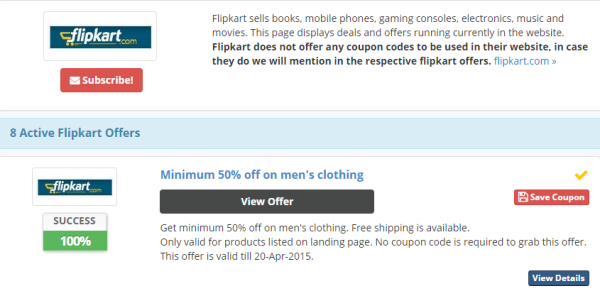 Overall 27 Coupons is a great website to find discount coupons and offers. It features many stores like E-commerce websites, Ticket booking stores, Cabs, restaurants, Banks etc. From Bags to Books, jewelleries to accessories, mobile phones, cameras, you will find coupons and offers related to almost everything there. 27 coupons is my current favourite these days.
Now you tell me, Have you tried using 27 coupons to save some bucks while shopping? What all discounts and offers you found interesting on this site? Let me know in the comments below.