I have shifted my blog from blogger to wordpress and this is my first post on wordpress. As it is said, that we should start every good thing with sweets so I thought why not my first post be a recipe of a sweet dish. So today I am sharing Rava laddu recipe with all my readers.
I made these ladoos a few days ago and it was a big hit at home. Everyone loved it and I got a lot of appreciation for it. It is a simple recipe which can be prepared in 30 – 45 minutes. It feels awesome when a dish which requires so less time and hard work tastes so yummy! Also, it contains very less ghee as compared to other laddoos. So you can enjoy them without much guilt.
Okay now let me end this Rava laddu story and give you the recipe so that you can make them and enjoy.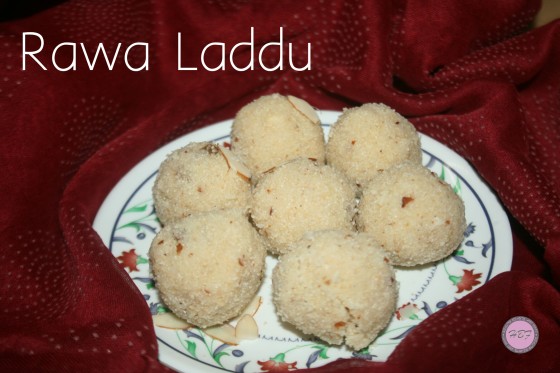 Ingredients:
Rawa/ Suji/ Semolina – 1 and 1/2 cup
Dessicated Coconut (Coarsely ground) – 3/4 cup
Sugar (Granulated) – 3/4 cup
Ghee – 2 – 3 teaspoons
Green Cardamom – 7 – 8
Milk – 4 – 5 tablespoons
Raisins – 2 tablespoons
Almonds (chopped or sliced) – 8 – 10
Cashews or almonds – to garnish
Also see: Moong Dal Halwa
Method:
Step 1: Powder sugar and green cardamom together and keep aside.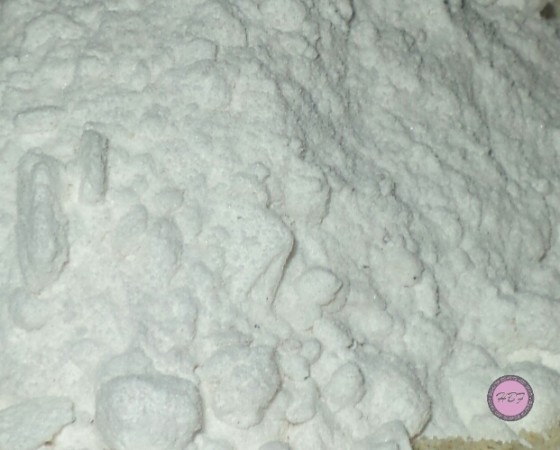 Step 2: Heat ghee in a non-stick wok or pan and add rava to it. Roast Rawa for 5 – 7 minutes till the raw smell leaves. Keep the flame low. We do not want the rawa to turn brown.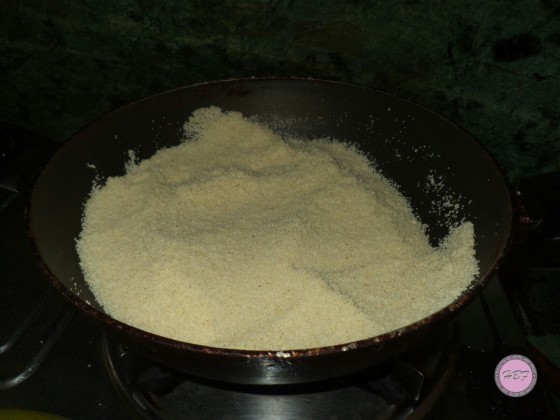 Step 3: After the rawa is roasted, add powdered sugar and mix. Turn off the flame.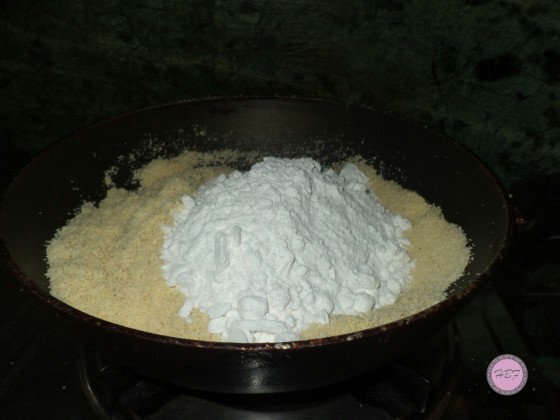 Step 4: Add dessicated coconut, raisins and almonds and mix well.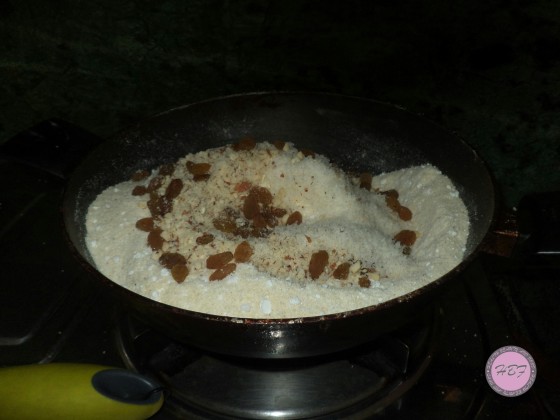 Step 5: Now add milk spoon-by-spoon and mix the mixture.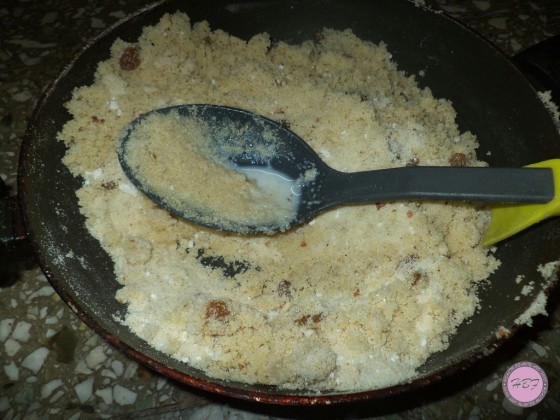 We are adding milk so that the mixture holds shape. So add milk accordingly.
Step 6: Make laddoos from the mixture when it is still warm.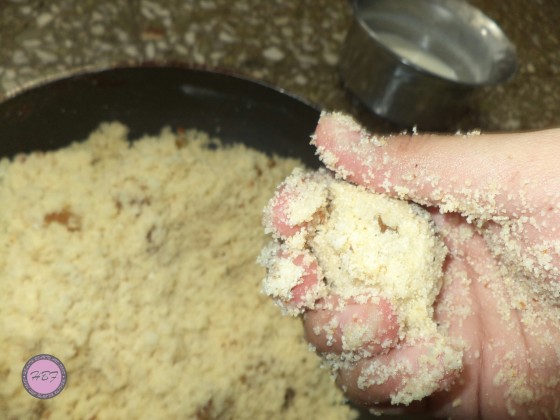 Step 7: Garnish with almonds slivers.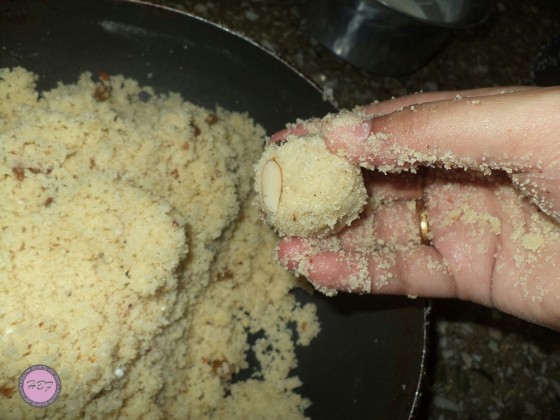 Step 8: Make all the laddoos in the same way.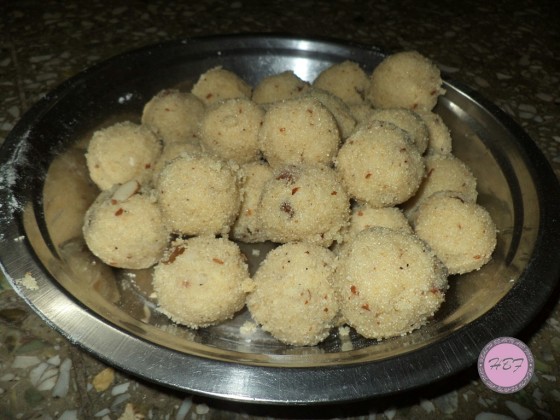 Step 9: Serve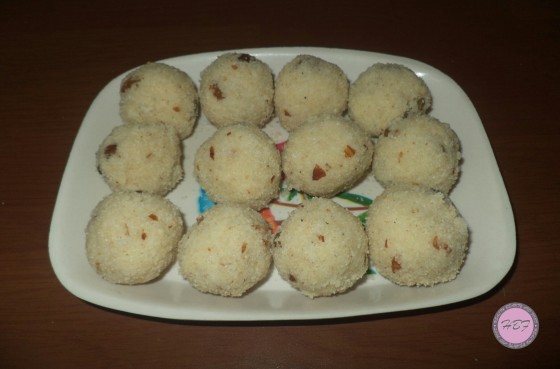 You may also like: Zarda (sweet rice)
Notes:
Consume Rawa laddoos within 24 hours as they contain milk and coconut both.
If you want to increase its shelf life, you can skip milk and add melted ghee to bind the mixture. Also, you have to skip the coconut too.
Alternatively, you can store in air tight container and refrigerate the laddoos for 2 – 3 days.
If you want your laddoos to have fine texture like the besan laddoos, you can grind the rawa before roasting.
Adding nuts and dry fruits are optional. Use any of your choice or skip it completely.
Coconuts are also optional but I highly recommend it because of the taste it gives.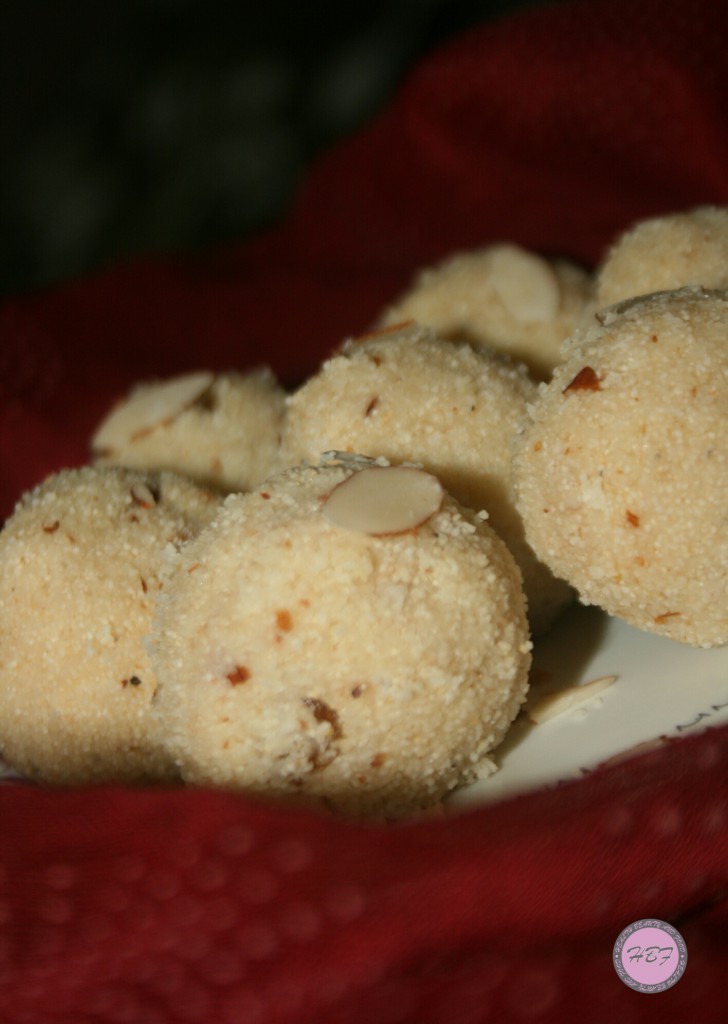 Have you tried making Rawa laddu? How do you make it? Share your recipe and tips with me in the comments section below.
If you find this post helpful then do share it in your social circles.
For more such recipes follow HBF on Facebook, Twitter, Google+, Pinterest and Instagram.