If you ask me one thing which I like about summer, I would say Mangoes. Yes, I love mangoes and I too only two variants, Alphonso and Badami. Mangoes are known as the king of fruits. You will rarely find a person on planet earth who dislikes mango. Apart from its delicious taste, Mangoes are packed with great health benefits. I'm mentioning a few of them below.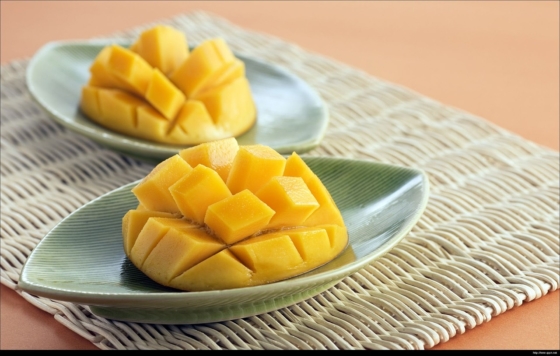 Health Benefits of Mango:
1. Good for eyes:
Mangoes are a rich source of vitamin A. It promotes good eye sights and helps in preventing night blindness and dry eyes.
2. Aids in loosing weight:
Mangoes contains a lot of vitamins and nutrients which makes you feel fuller and prevent you from taking additional calories.
3. Keeps you cool in summer:
Mangoes not just grow in summers but they also help you beat the heat. Raw mangoes juice aids in cooling down the body and prevents sun stroke.
4. Boost immune system:
Adding mangoes to your diet boosts your immune as they contain vitamin A, vitamin B and different types of carotenoids.
5. Prevents Cancer:
Mangoes are high in antioxidants. It contains phenols, an antioxidant agent which helps to prevent cancer.
6. Controls Cholesterol:
Mangoes contain high levels of fiber, pectin and vitamin C which helps to lower serum LDL (Low-Density Lipoprotein) cholesterol levels.
7. Helps to increase iron level:
High iron content in mangoes helps to increase iron level in woman and kids with iron deficiency.
8.  Aids digestion:
Mangoes helps to keep the digestive function proper as it contains enzymes which soothes stomach and fiber which prevents constipation.
9. Improves concentration:
Mangoes contain glutamine acid which is an important protein for concentration.
10. Controls heart rate and blood pressure:
Mangoes are good source of potassium which is an important component of cell and body fluids that helps to control heart rate and blood pressure.
So enjoy this appetizing summer fruit without any guilt in the form of juice, salad or in any other way. Don't forget to share this post with mango lovers around you.
Check out this sweet Mango recipe: Instant Choco Mango.
For more informative posts do follow Health Beauty and Food on Facebook, Twitter and Instagram.