A face wash from Oxy Glow Cosmetics for normal to dry skin which cleanses your face without striping off its moisture and makes it glow.
The best part of it is that it has a smaller variant which is good for trial and travelling purpose.
Price: 20 INR
Quantity: 20ml
Shelf Life: 3 years
Availability: Easily available online and offline
Buy Oxy Glow Strawberry Face Wash here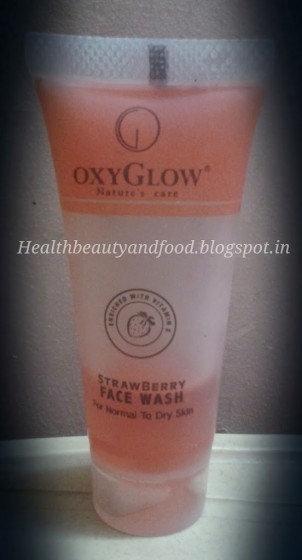 Company's Claim: A unique formulation rich in strawberry extracts, this face wash returns luster to the skin. It works effectively on rough skin, gently exfoliating the dead skin and impurities, leaving the skin visibly clear, radiant and flower fresh.
Ingredients: Aqua, SLES, SLS, Glycerin, Olivem, Honey, Strawberry extract, Tea tree oil, Beet root, Aloe vera extract
Direction to use: Moisten face. Squeeze out a small quantity of strawberry face wash. Apply evenly on the face and neck while gently massaging in circular motions. Rinse well and pat dry. For a cleaner and softer looking skin, use twice a day. Follow it up with Oxyglow Intensive Moisturizing Lotion.
Packing: Oxy glow Strawberry face wash comes in a pinkish transclusent tube with white screw cap which is tight enough to carry the tube in purse. The tube is transclucent so you can see how much face wash is left.
Experience: Oxy Glow Strawberry Face Wash is a thick pink coloured gel liquid which has a few red color beads in it. It has fruity fragrance which stays for some time even after washing off the face wash.
The face wash lathered well so small amount is enough to cover my face and neck. The Beads in the face wash is not for exfoliation as it dissolved as I wash my face.
After using Oxy Glow Strawberry Face Wash I found my skin clean and glowing. It cleanses my face without striping away the skin's moisture. Nor does it make my face greasy.
While using the Oxy Glow strawberry face wash I found that if you take a little more then required, it dries your skin. Also, it is not that good for extra dry skin and chilly winters when you need extra care.
Also Read: Lakme Clean up Face Wash Nourishing Glow review
What I like about Oxy Glow Strawberry Face Wash:
Does what it claims
Travel Friendly
Cheap
Trial size available
What I dislike about Oxy Glow Strawberry Face Wash:
Contains SLS
Not for winters and extra dry skin
May dry your skin when use more then required
Rating: 4/5
Verdict: Oxy Glow Strawberry Face Wash is a decent face wash which is perfect for normal to dry skin. It does what it claims and comes for an affordable price. Though it is a face wash made for normal to dry skin but it may be a bit drying in winters.
Have you tried Oxy Glow Strawberry Face Wash? How was your experience? Do let me know in the comment section below.
Keep yourself updated with new posts by following HBF on  Facebook, Twitter, Google+, Pinterest and Instagram.