Do you know Singapore is a food haven? Apart from its beautiful scenery and low crime rate, Singapore is also known for its food. One of the reasons why Singapore attract many tourists is the wide variety of food available there. Other than Singaporean food, you will also find Chinese, Malaysian and Indian cuisines in Singapore. There are variety of dishes available in Singapore. To name a few they have Chicken rice, Carrot cake (chai tow kuay), Char kway teow, Dim Sum, etc.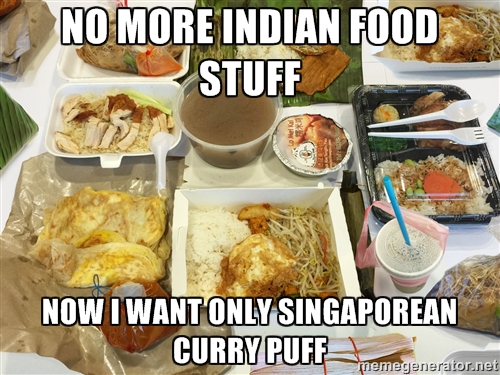 If you ask me which Singaporean dish I like the most, my answer would be 'Curry Puff'. It is a Bruneian, Malaysian, Singaporean, and Thai snack and you will find it almost everywhere in Singapore. Looks like Indian Puff or Gujiya, Curry Puff is something completely different. Filled with potato and chicken, these puffs are flaky and crispy from outside and have a special curry taste. They are often deep-fried and sometimes baked.
There are different varieties of Curry Puff available in Singapore. Most common variety is Epok Epok or Teh Teh.  These curry puffs are made in bite size pieces and has eggs in the filling used instead of chicken. You will also find completely vegetarian Curry Puffs which are filled with potatoes, carrots and onions.
Other varieties include Curry Puffs with sardine, black-pepper chicken and tuna fillings. Puff with yam, durian, corn, red bean, nata de coco, grass jelly, bird's nest and even custard fillings are also available.
So tell me have you tried Singaporean Curry Puffs? Which is your favourite Singaporean dish?