Facial clean up is an essential part of skin care. It helps you remove accumulated dirt, blackheads/whiteheads and reveal your clear, beautiful skin. Regular clean up may also help in preventing acne and keeping your skin healthy.
But, in today's busy world, visiting parlour for a good facial has become a difficult task. Thanks over-the-counter facial kits, one can do facial easily at home. But this home facial is a lengthy and time-consuming process. Plus you need to buy these kits every time you do facial.
Today I'm sharing a simple 3 steps clean up method for which you need only 3 things and just a few minutes.
Things you need:
a facial steamer,
a facial scrub
and a face pack
Directions:
Step 1: Steam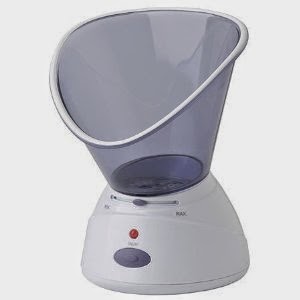 Use a facial steamer and steam your face for 1 – 2 minutes. This will help to open up the pores of your face for a deep cleansing. Cover your face with a towel while steaming. If you don't have a facial steamer, don't worry. Boil water in a vessel and use it as a steamer. But beware! Don't burn yourself.
Step 2: Exfoliate

Use a mild scrub to exfoliate your skin and remove dead skin cells, blackheads and/or whiteheads. Use warm water if required while scrubbing. Wash off the scrub with water and pat dry.
Step 3: Apply Face Pack
Apply your regular face pack or mask and keep it on for 10 – 15 minutes or as directed on the face pack. Wash your face and pat dry.
Your facial clean up is now completed. All it took was just 3 simple steps and 20 – 25 minutes of yours!
Follow this clean up process every week or whenever you need a facial.
Notes:
Extract blackheads/whiteheads if required after step 2. Use a comedone extractor for the same.
Tone and moisturise your face after the clean up process.
How did you find this 3 step facial clean-up? Do you visit parlour for a facial clean up or do it yourself at home? Do let me know in the comments section below.