I'm all attracted to natural and ayurvedic things. Anything related to nature appeals me. Whether green or blue colors, nature prints or natural ingredients in products. If you take a look around my blog, you will find reviews of ayurvedic and natural products. Being an Indian, I have grown up using various dadi-ma-ka-nuska for good skin, hair and overall body health. I still go for natural remedies for smaller health and skin problems. Turmeric and honey mixture for cough, Fenugreek and Coconut oil for dandruff, olive oil for dry skin, clove for toothache and the list goes on. The reason why I stick to these home remedies or you can say natural treatment is that these are not just something came from our grandma's experience. These natural remedies are backed by scientific research.
It feels always good to find that our Indian remedies are not baseless. It has been tested and proved beneficial. Ayurveda, which is an Indian discovery is now accepted and loved throughout the world. Our very own dental care brand Colgate has now came up with a unique product which is a perfect blend of Ayurveda and Modern Science.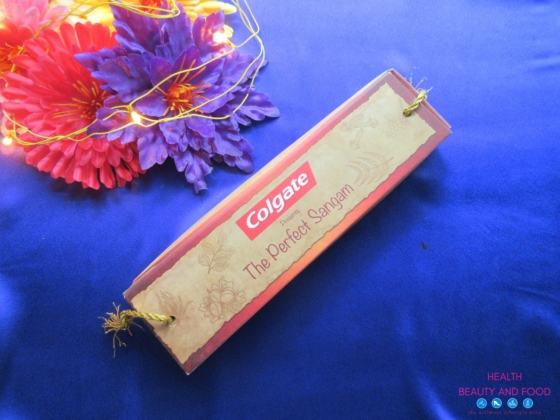 The New Colgate Swarna Vedshakti is the perfect sangam of ved and vigyaan. It is a herbal product made using ingredients like clove, neem, amla, tulsi and honey. These ingredients are known for the following dental benefits in Ayurveda:
Clove – known to strengthen teeth and prevent cavity
Tulsi – fight multiple tooth and gum problems like toothache, pyorrhoea and bad breath
Neem – effective in treating tooth decay, bleeding gums and improves overall dental health
Honey – stops bacteria growth that cause dental plaque and prevents gum diseases and infections
Amla – active anti-oxidant, used to maintain oral health
Find out why oral hygiene should not be taken for granted
The ingredients used in the New Colgate Swarna Vedshakti is considered beneficial for good oral health not only by our good-old Ayurveda but also by Modern Science. And hence this toothpaste is called as the perfect Sangam of Ved and Vigyaan. Similar to pasta with an Indian twist, it is a fusion of ancient Indian knowledge and today's scientific knowledge.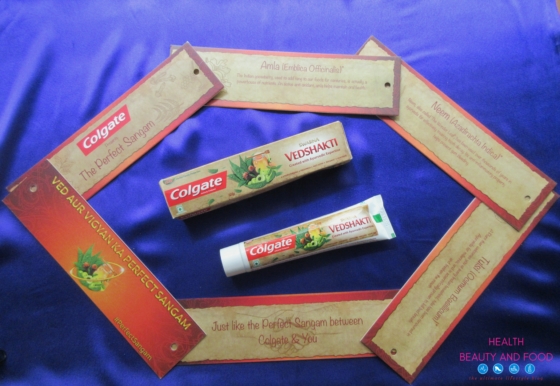 I have tried this toothpaste and here I'm sharing my views about it.
Like I said earlier, I find natural things very attractive. The packaging of New Colgate Swarna Vedshakti gives that natural feel and thus I really like it. The toothpaste is greenish-brown in color, something like a manjan (tooth powder) and it smells and taste herbal/natural. I like the natural flavour and smell. It reminds of the herbal tooth powder I use to use at my Grandma's place in childhood. After brushing with this toothpaste, my mouth feels fresh and clean. It gives that cooling sensation, a little more than other toothpaste (more than the normal colgate too) and that sensation last quite long. My mouth feels fresh longer in comparison to other toothpaste I have used.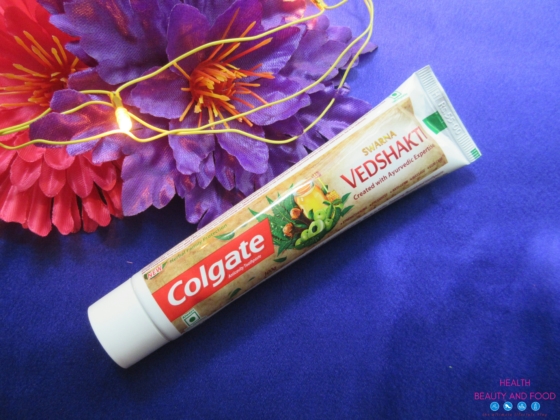 Dentists recommend flossing and brushing at least twice a day for good dental health. I think brushing with a toothpaste like the New Colgate Swarna Vedkanti is a good idea as it provides benefit of natural ingredients. I complete my oral hygiene routine by flossing my teeth with Colgate dental floss.
Yellow teeth? Here are some Natural Ways to Whiten Your Teeth
New Colgate Swarna Vedkanti is priced at Rs. 55 for 100 grams and like other Colgate variants, this too is easily available with local vendors and e-commerce websites. You can buy it here.
The new Colgate Swarna Vedshakti is the Perfect Sangam of age-old
ayurvedic ingredients and Colgate's oral care expertise.  It is packed with
the goodness of Tulsi, Clove, Neem, Honey and Amla. The result is a
toothpaste that gives the entire family the oral care protection they need
and tastes great too!

– Colgate
What do you this about this #perfectsangam? Share your views in the comments below.