Hi guys,
I am little bored today to write a post but it is already 28th of October and I haven't reviewed my Fab Bag October 2015. Since it is festive season in India Fab Bag's theme is 'Get set to celebrate'. To go with the theme all the products came in a Red and Pink ethnic pouch. I quite liked this pouch as it was apt for the theme. Then there is the usual Fab Post Magazine and a card which lists all the products we receive.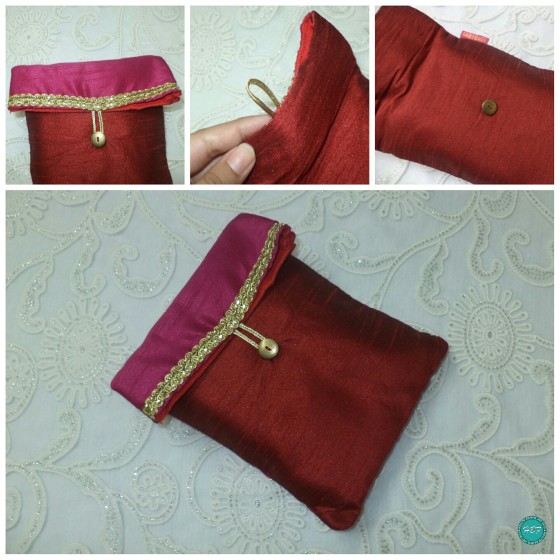 All the Fab Bag subscribers were given a chance to select their make-up product for October bag. But I missed my chance to reserve my product. 🙁 Anyway I am happy with the make-up product I got. Lets see what all products I received in my Fab Bag October 2015.
1. Spa Ceylon Green Mint Cooling Scrub:

The first I got is this 50 grams sample of a foot scrub from Spa Ceylon. I have seen some people getting a face mask from Spa Ceylon instead of foot scrub and I think a foot mask is better for festive theme. I haven't tried this Spa Ceylon Green Mint Cooling scrub yet but yes it has strong minty smell. I'll try this and will update you guys with my experience. This scrub is priced at Rs. 1100/- for 300 ml.
2. Palmer's Cocoa Butter Formula Lotion:

Next in my Fab Bag October 2015 is this 50 ml sample of Palmer's moisturiser. I tried this one and have liked it. But then again the theme is festive and if I want to shop something for festivals I would buy a make-up product, a special face pack or a scrub. Because a moisturiser is something I buy on regular basis. Anyway, since winter is round the corner this Cocoa Butter lotion will be very useful. 400 ml of Palmer's Cocoa Butter Formula Lotion comes for Rs. 545/-.
3. Nyassa Oceana Foaming Face Scrub:

Finally a face scrub in my Fab Bag October 2015! This is an Apricot scrub and I got a 30 ml sample of it. I haven't used it until but I'm thinking to try it today. I'll share my initial impression on social media so keep a watch. Full size i.e. 200 grams of Nyassa Oceana Foaming Face Scrub is for Rs. 900/-.
4. Soultree Lipstick in shade Deep Blush:

I had Soultree Lipstick in my wishlist from quite a long time but I keep on delaying my purchase. The shade received is called Deep Blush. It is apparently a red color but I'll describe this shades as a brown with orange undertone. And yes it smells like Calcium Sandoz :D. Soultree Lipsticks are ayurvedic and made with organic ingredients like ghee, honey, almond oil, etc. Its price is Rs. 550/-.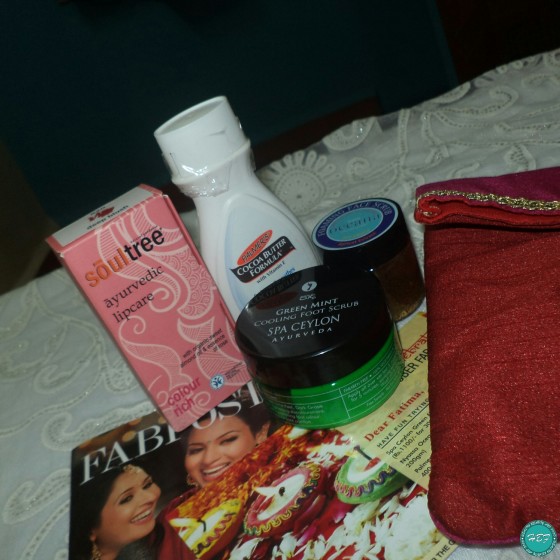 My Fab Bag October 2015 Get Set to Celebrate was just okay for me. Though the products were good and samples were of decent size but since it was festive theme this time I was expecting at least 2 make-up products in the bag.
What you think about it? Let me know in your comments.
Oh yes, if you want to buy Fab Bag October 2015, you can buy it here for Rs. 699 per month.
Also, there are 3 festive fab bags now available to buy i.e. Elegant & Fine priced at Rs. 499, Get Set to Celebrate for Rs. 699 (better than the one I reviewed) and Glitter & Glam for Rs. 999.